Trupa oradeana, Hotel FM, formata din David Bryan, Gabriel Baruta si Alex Szuz s-a calificat in urma cu 15 minute in finala concursului Eurovision 2011 de la Dusseldorf, Germania, de pe pozitia a doua. Au cantat superb si au meritat calificarea. Eu vi-am zis de la inceput ca melodia Change va face furori prin Europa si asa a si fost. O sa vedeti ca avem sanse mari sa castigam. De pe locul 3 s-au calificat si fratii nostri, si anume Moldova, care au fost reprezentati de trupa Zdob si Zdub cu melodia So Lucky. Dintre cei care nu s-au calificat meritau un loc in finala si Croatia, San Marino, Belarus, Bulgaria, Israel, Slovacia si Olanda. Anul asta sunt destul de multe melodii bune. Sper ca finala sa fie incendiara!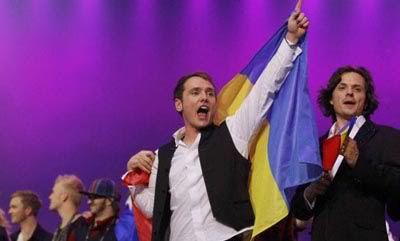 David Bryan si Gabriel Baruta
poza REUTERS
Hotel FM – Change
Celelalte tari calificate:
Nadine Beiler – The Secret Is Love (Austria)
Ell/Nikki – Running Scared (Azerbadjan)
Dino Merlin – Love In Rewind (Bosnia si Hertegovina)
A friend in London – New Tomorrow (Danemarca)
Getter Jaani – Rockefeller Street (Estonia)
Paradise Oskar – Da Da Dam (Finlanda)
Amaury Vassili – Sognu (Franta)
Eldrine – One More Day (Georgia)
Lena – Taken By A Stranger (Germania)
Loucas Yiorkas feat Stereo Mike – Watch My Dance (Grecia)
Kati Wolf – What About My Dreams? (Ungaria)
Sjonni's Friends – Coming Home (Islanda)
Jedward – Lipstick (Irlanda)
Raphael Gualazzi – Madness Of Love (Italia)
Evelina Sasenko – C'est Ma Vie (Lituania)
Alexej Vorobjov – Get You (Rusia)
Nina – Caroban (Serbia)
Maja Keuc – No One (Slovenia)
Lucia Perez – Que Me Quiten Lo Bailao (Spania)
Eric Saade – Popular (Suedia)
Anna Rosinelli – In Love For A While (Elvetia)
Mika Newton – Angel (Ucraina)
Blue – I Can (Marea Britanie)
Cei care nu s-au calificat:
Aurela Gace – Feel The Passion (Albania)
Emmy – Boom Boom (Armenia)
Daria – Celebrate (Croatia)
Glen Vella – One Life (Malta)
Stella Mwangi – Haba Haba (Norvegia)
Magdalena Tul – Jestem (Polonia)
Homens Da Luta – Luta E Alegria (Portugalia)
Senit – Stand By (San Marino)
Yuksek Sadakat – Live It Up (Turcia)
Anastasya Vinnikova – I Love Belarus (Belarus)
Witloof Bay – With Love Baby (Belgia)
Poli Genova – Na Inat (Bulgaria)
Christos Mylordos – San Aggelos S'Agapisa (Cipru)
Vlatko Ilievski – Rusinka (Macedonia)
Dana International – Ding Dong (Israel)
Musiqq – Angel In Disguise (Letonia)
Twiins – I'm Still Alive (Slovacia)
3JS – Never Alone (Olanda)
Articole Relevante:
Trupa oradeana Hotel FM va reprezenta Romania la Eurovision 2011 !
Paula Seling si Ovi, locul 3 la Eurovision 2010 !
Ovi si Paula Seling la Eurovision 2010 !