Ieri s-a desfasurat la Oslo, Norvegia cea de-a 55 editie a evenimentului numit Eurovision. In finala au intrat doar 25 de piese, printre care si a noastra, si anume Paula Seling si Ovi – Playing with fire. Dupa ce s-au cantat cele 25 de piese, Romania a iesit pe locul 3 dupa Germania cu Lena – Satellite si Turcia cu Manga – We could be the same. Melodia turcilor a fost superba, dar a Germaniei nu mi-a placut prea tare. Mi s-a parut doar mie sau e o piesa emo? Oricum ma bucur ca Romania a obtinut locul 3. Mi-au mai placut cum au cantat Moldova, Belgia, Georgia, Ucraina, Franta, Armenia sau Danemarca.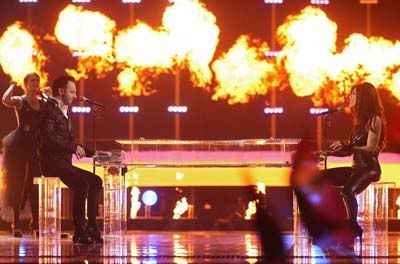 Paula si Ovi

Lena
poze daylife.com
Interpretarea romanilor in finala
Toate melodiile din finala:
1. Safura – Drip Drop (Azerbadjan)
2. Daniel Diges – Algo pequenito (Spania)
3. Didrick Solli-Tangen – My Heart Is Yours (Norvegia)
4. Sunstroke Project & Olia Tira – Run Away (Moldova)
5. Jon Lilygreen and The Islanders – Life Looks better In Spring (Cipru)
6. Vucasin Brajic – Thunder And Lightning (Bosnia & Hertegovina)
7. Tom Dice – Me And My Guitar (Belgia)
8. Milan Stankovic – Ovo je Balkan (Serbia)
9. 3 + 2 – Butterflies (Belarus)
10. Niamh Kavanagh – It's For You (Irlanda)
11. Giorgos Alkaios & Friends – OPA (Grecia)
12. Josh Dubovie – That Sounds Good To Me (Marea Britanie)
13. Sofia Nizharadze – Shine (Georgia)
14. maNga – We Could Be The Same (Turcia)
15. Juliana Pasha – It's All About You (Albania)
16. Hera Bjork – Je ne Sais Quoi (Islanda)
17. Alyosha – Sweet People (Ucraina)
18. Jessy Matador – Allez Olla Ole (Franta)
19. Paula si Ovi – Playing With Fire (Romania)
20. Peter Nalitch & Friends – Lost And Forgotten (Rusia)
21. Eva Rivas – Apricot Stone (Armenia)
22. Lena – Satellite (Germania)
23. Filipa Azevedo – Ha Dias Assim (Portugalia)
24. Harel Skaat – Milim (Israel)
25. Chanee & N'evergreen – In A moment Like This (Danemarca)
Melodii ce nu s-au calificat in finala
Malcolm Lincoln – Siren (Estonia)
Kristina Pelakova – Horehronie (Slovacia)
Kuunkuiskaajat – Työlki Ellää (Finlanda)
Aisha – What For? (Letonia)
Marcin Mroziński – Legenda (Polonia)
Thea Garrett – My Dream (Malta)
Gjoko Taneski – Jas Ja Imam Silata (Macedonia)
InCulto – Eastern European Funk (Lithuania)
Michael von der Heide – Il pleut de l'or (Elvetia)
Anna Bergendahl – This Is My Life (Suedia)
Sieneke – Ik ben verliefd (Sha-la-lie) (Olanda)
Ansambel Zlindra & Kalamari – Narodnozabavni Rock (Slovenia)
Niamh Kavanagh – It's For You (Irlanda)
Miroslav Kostantinov – Miro – Angel Si Ti (You Are An Angel) (Bulgaria)
Feminnem – Lako je sve (Croatia)
Articole Relevante:
Ovi si Paula Seling la Eurovision 2010 !
Norvegia a castigat Eurovision 2009 !
Elena Gheorghe la Eurovision 2009 !