Azi noapte au fost decernate Premiile Oscar pentru "cele mai bune filme" de anul trecut. Eu din pacate n-am vazut nici unul si nu-mi pot da cu parerea. Dar am auzit foarte multe pareri contra, multi oameni sunt nemultumiti de aceste premii. Nu stiu ce ziceti voi.
Cel mai bun film: The Artist
Cel mai bun actor in rol principal: Jean Dujardin (The Artist)
Cea mai buna actrita in rol principal: Meryl Streep (The Iron Lady)
Cel mai bun actor in rol secundar: Christopher Plummer (Beginners)
Cea mai buna actrita in rol secundar: Octavia Spencer (The Help)
Cel mai bun regizor: Michel Hazanavicius (The Artist)
Cel mai bun scenariu original: Midnight in Paris (Woody Allen)
Cel mai bun scenariu adaptat: The Descendants (Alexander Payne, Nat Faxon, Jim Rash)
Cel mai bun lungmetraj de animatie: Rango, de Gore Verbinski
Cel mai bun film strain: Nader and Simin, a Separation (Iran)
Cea mai buna imagine: Hugo (Robert Richardson)
Cel mai bun montaj: The Girl with the Dragon Tattoo (Kirk Baxter şi Angus Wall)
Cea mai buna scenografie: Hugo (Dante Ferretti, Francesca Lo Schiavo)
Cele mai bune costume: The Artist (Mark Bridges)
Cel mai bun machiaj: The Iron Lady
Cea mai buna coloana sonora: The Artist – Ludovic Bource
Cel mai bun cantec: Man or Muppet din The Muppets – Bret McKenzie
Cel mai bun montaj de sunet: Hugo
Cel mai bun mixaj de sunet: Hugo
Cele mai bune efecte vizuale: Hugo
Cel mai bun scurtmetraj de fictiune: The Shore, de Terry George si Oorlagh George
Cel mai bun lungmetraj documentar: Undefeated, de TJ Martin, Dan Lindsay si Richard Middlemas
Cel mai bun scurtmetraj documentar: Saving Face, de Daniel Junge si Sharmeen Obaid-Chinoy
Cel mai bun scurtmetraj animat: The Fantastic Flying Books of Mr. Morris Lessmore, de William Joyce si Brandon Oldenburg
Premiile Zmeura de Aur pentru cele mai proaste filme vor fi anuntate pe data de 1 aprilie, de ziua pacalelilor.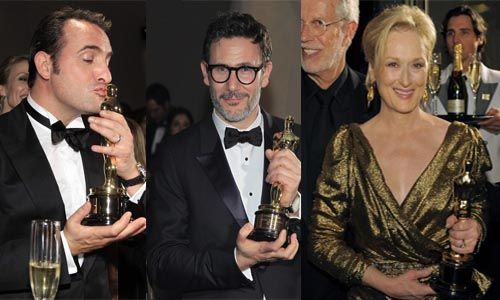 Jean Dujardin, Michel Hazanavicius si Meryl Streep
Mai multe poze AICI
Articole Relevante:
Premiile Oscar si Zmeura de aur 2011 !
Premiile Oscar si Zmeura de aur 2010 !
Premiile Oscar si Zmeura de aur 2009 !