In perioada 28 iulie – 1 august, la Las Vegas, Nevada, SUA s-a desfasurat Campionatul Mondial de Hip Hop. La aceasta competitie au participat formatii si dansatori din 34 de tari, printre care si Romania. Romania a fost reprezentata de "The Kittens" din Bucuresti, castigatoarea campionatului national la categoria ADULTS si condusa de coregraful oradean de doar 19 ani, Emil Rengle, "Lil Style" din Braila, castigatoarea campionatului national la categoria VARISITY si Done Roberto din Constanta, castigator la categoriile Popping si Locking. Dansatorii nostri au obtinut urmatoarele rezultate:
The Kittens – locul 31 din 43 de trupe
Lil Style – locul 34 din 38 de trupe
Done Roberto – n-a trecut de primul tur (battle) la nici o categorie, dar trebuie sa tinem cont ca a concurat cu dansatori intre 20 si 30 de ani
Baieti si fete, lasati ca anul viitor va fi mai bine. Vor fi mai putine emotii si poate in urmatorii ani veti veni acasa cu medalii. O sa vedeti ca se poate, mai ales ca ati avut ocazia sa-i intalniti pe Boogaloo Sam – creator Popping / Electric Boogaloos style, Don Campbellock – creator locking style, Howard Schwartz – creator Sport Aerobic si creator America's Best Dance Crew sau Sho-Tyme – coregraf Aaliyah, Jay Z, Mary J Blige, P Diddy, Shakira, Busta Ryhmes, J Lo samd si a lucrat la filme precum: You Got Served, Stomp The Yard si Dance Flick.
Trebuia sa ne reprezinte si "Vivace Crew", din Vulcan, Hunedoara, castigatoarea campionatului national la categoria JUNIORS, dar din pacate cei de la Primaria din Vulcan, nu s-au tinut de cuvant pana la capat si au renuntat la sponsorizare. Pacat, pentru ca 6500 de euro nu inseamna nimic pe langa motivatia pe care o primeau copiii daca mergeau la CM din Las Vegas (aici gasiti articolul, in care un redactor frustrat de duzina isi da cu parerea, dar pacat ca habar n-are). De fapt, asta e presa romaneasca, ce sa mai ascundem dupa deget. Doi la mana, daca oricare dintre voi faceti o promisiune unui copil atunci duceti-o pana la capat.
Romania, de fapt Oradea a mai fost reprezentata de coregraful Darius Domocos, in comitetul de jurizare (shadow judge). Darius a obtinut dreptul de a juriza competitiile Hip Hop International din intreaga lume. Bine baaaaa!
Castigatorii Campionatului Mondial Hip Hop International 2010 sunt:
JUNIORS (7-12 ani):
1. Star Team (Japonia)
2. Fresh 2.0 (Canada)
3. Lil'Hustlers (Irlanda)
VARISITY (13-17 ani):
1. Zero (Japonia)
2. Illest-Vibe (Canada)
3. Sorority (Noua Zeelanda)
ADULTS (+18 ani):
1. Request (Noua Zeelanda) – aici show-ul de exceptie, care s-a incheiat cu celebra Haka
2. Poreotics (SUA)
3. Fly Girlz (Canada)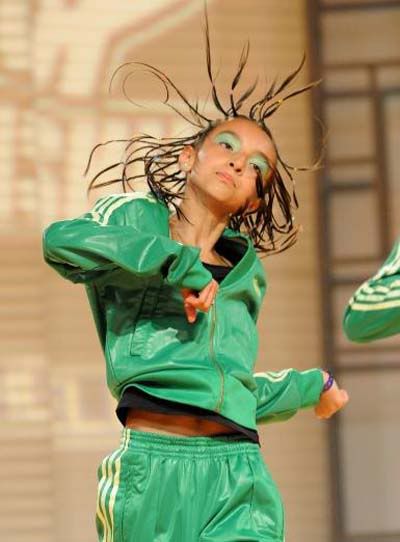 O fetita din Lil Style dansand la CM din Las Vegas
poza lasvegasweekly.com
Articole Relevante
Poze si Rezumat Hip Hop International Romania Oradea 2010 !
Campionatul National de Dans Hip Hop International Romania, la Oradea !
Poze cu Ja Rule in Bucuresti !